(If you don't get this email in your inbox, sign up HERE)
Hi readers!
2018 Hirsch Vineyards "The Space Within" Pinot Noir (Fort Ross-Seaview, Sonoma)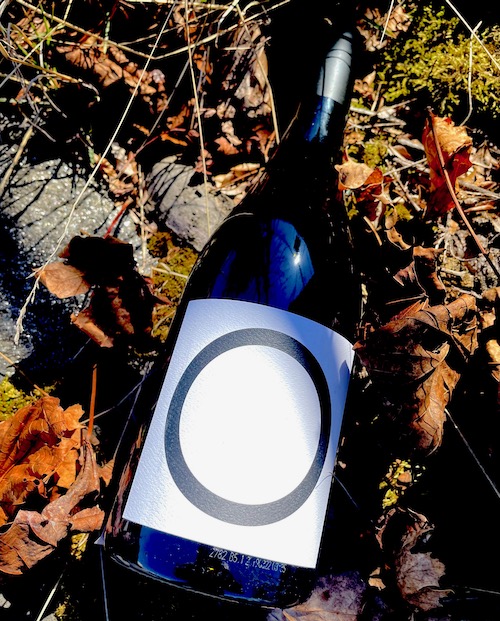 This is a unique single barrel collaboration bottled just for Ancona's released in 2020, just before the pandemic.
A couple weeks ago, I noticed we still have a few cases left, so I decided to pull a cork. And oof. It is absolutely, positively singing.
The cuvée represents a comprehensive and complex expression of the Hirsch Vineyard—blended across an orchestrated sampling of blocks from the greater vineyard.
We named it "The Space Within"--just as much space on the inside as there is on the outside—which alludes to the human experience—how each of us has a unique perspective in the way we encounter the world.
Artwork by Mitch Ancona.
Just 25 cases were produced--that's 300 bottles—a single barrel.
As of this morning, about 90 bottles remain.
The Vineyard:
Hirsch Vineyard is an incredible place.
This terroir high up in Sonoma is defined by its immediate proximity to the San Andreas Fault and the Pacific Ocean--high up in Sonoma.
It's hard to imagine the unlikely beginning of this narrative. David Hirsch literally found this former cattle ranch listed in the classified section of the San Francisco Chronicle!
David wasn't a winemaker. If fact, he wasn't even a farmer yet. However, in 1980, at the suggestion of a buddy, David planted Pinot Noir on the property, establishing what is perhaps California's most legendary site for Pinot Noir.
For context, it's an important detail to acknowledge that David is first and foremost a farmer and that for many years the Hirsch family didn't produce any wine themselves.
It was the pedigree of the vineyard, the quality of the fruit, and the dedication of the family farming it that attracted great producers like Williams Selyem, Littorai, Kistler, Failla, and Lioco, among others.
It wasn't until 2002 that the family started to vinify some of the fruit themselves and produce their own rendition of Hirsch Vineyard!
And I gotta say, there is something so utterly distinct about the way this family shepherds Pinot from vineyard to bottle. Of course, they would tell you that it's the vineyard speaking.
Over the past decade, David's daughter Jasmine has become the face of Hirsch vineyards, and she is now the head winemaker.
I can't wait for you to get a glimpse of this wine with a few years of age on it.
I can imagine it will be a delightful accompaniment for Passover or Easter meals.
Drink now or hold.
Happy weekend.
Codey
My notes read: This wine was outstanding when it was released in 2020, but now in 2023, with a few years of age, it is absolutely, positively singing. This is simply textbook Hirsch Pinot Noir and as Pinot Noir goes--this is just about as refined, pretty, and soulful as it gets. I know I could spend a whole afternoon on my couch just soaking up the aroma alone which is stamped with all the hallmarks of this great vineyard site. On the palate, the wine is a crystaline, seamless, and layered. Reductive and seductive black cherry takes the foreground while nuances of crushed autumn leaves, white mushrooms, dark minerality, matchstick, and graphite dance in the background with tertiary complexity beginning to sneak in around the edges.. It's uncanny how much flavor concentration is accomplished without bringing weight. 12.9%
Drink it now, with morels, baked ham, baked salmon, or hold for another 7-10 years+.
Regular: $69.99
Sale: $59.99
6btl: $56.99
12btl: $53.99
Cellar Sale
Our Cellar Sale is still going strong! Great wines remain available, but supply is limited. Make sure you don't miss that special bottle!
Shop HERE
Berkshire Barreled Ethereal Gin (750ml)
Price: $49.99
Sale Price: $35.99
"Aged 6 years in Samuel Adams Utopias Barleywine beer casks, imparting notes of almond and a nutty finish."
Shop HERE
Kent Falls Brewing Superscript IPA
(4pk 16oz cans)
Price: $14.99
Sale Price: $11.99
"Made From 100% Locally Grown And Malted Grains."
Shop HERE